This European style Chandelier Plating process by polishing, pickling, polishing. electroplating, Drawing and so on as many as60 refining process. Is not easy Rust, corrosion protection, fade, strong and durable,10years as new. Selection of high quality cotton hemp cloth transparent and good,
The color is round, not sticky, easy to clean. Featured hardware, superb plating process, The beauty of smooth curves, showing a natural Europe and the United States.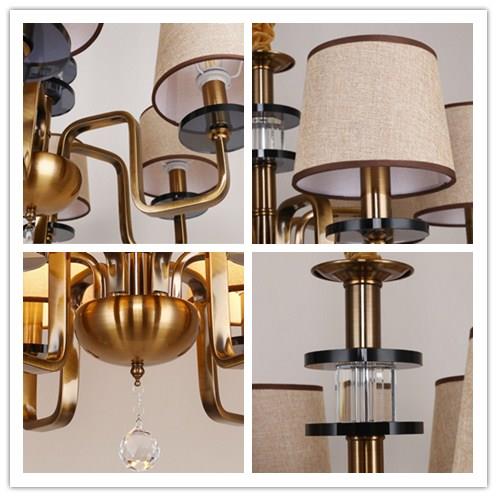 Product Description
Material: Metal
Finish color: Gold Brown
Arms:6/8
Voltage: 220V-240V (could be directly connected to main power)
Lamp:
E14*40W*1
E14*40W*2
E14*40W*3
E14*40W*6
E14*40W*8
Dimension:
170*240*380cm Packing size:22*22*26cm NW:1.1KG,GW:1.3KG for 1arms
300*240*380cm Packing size:22*22*26cm NW:1.3KG,GW:1.5KG for 2arms
Height 52cm Width 50cm Packing size:59*53*21cm NW:2.9KG,GW:3.9KG for 3arms
Height 52cm Width 70cm Packing size:73*51*21cm NW:4KG,GW:5KG for 6arms
Height 65cm Width 88cm Packing size: 73*61*21cm NW:7.2KG,GW:8.2KG for 8arms
---
Why Choose Us?
We have an expert team:
Our specialists can walk you through finding the right design for your home or project. Our team assist with everything from product selection to project advice to technical specifications. For members of the trade, our account managers become a part of your team to bring your design vision to clients and keep your projects on schedule.
There's a lot to discover:
Our curated collection represents the best in modern design today. Here, modern isn't just about a look, but about innovation and possibility in the new frontiers of technology, material and artistry. We celebrate the many ways that design helps bring modern to light.
You'll get the best price:
If you've found a better price on the same item from another source, let us know. We are happy to match a competitive price from another authorized retailer to guarantee you the best value on authentic modern design.